Planet Green Solutions, Sun State Organics, and Live Oak Stud
July 25, 2012
Marion County, FL
Author: Sarah Luther
Planet Green Solutions Website
Sun State Organics Website
Live Oak Stud Website
On July 25, 2012, the Bioenergy and Sustainability School (BESS) interns took a field trip to sustainability related businesses in Marion County. Guided by Marion County extension agent Jamie Cohen the interns visited Planet Green Solutions, Sun State Organics, and Live Oak Stud. Planet Green Solutions' CEO Chris Morrison led the tour and demonstration of an on-farm gasifier at his home near Ocala. At the time of the visit, the gasifier was humming away in the background, gasifying downed tree limbs collected from the property into electricity. Specialized equipment, which runs via a tractor PTO, cuts the downed tree limbs into small chunks that are dried before being loaded into the gasifier. Within the gasifier, a thermochemical process converts the woody feedstock into predominantly hydrogen and carbon monoxide gases, also known as syngas, that are used to fuel a gas generator and then converted to electricity. The system that the BESS students toured was a 20kW gasifier. It has an automatic feeder that loads the gasifier's hopper about every 5 hours. The process is exothermic and only requires energy for startup. The wood fuel needs to be dried prior to gasification, which is accomplished by using waste heat from the system. Mr. Morrison claims that the exhaust of the generator running on the syngas is 10 times cleaner than a car's engine and 4 times cleaner than the same system running on natural gas. The exhaust system had no apparent smoke or odor. The small 20kW gasifier system was making more energy than the farmhouse could utilize, so the extra electricity was being sold to the utility company. The entire system has a sophisticated computer control system that runs the unit and allows remote operation from anywhere in the world. Byproducts of the systems include bio-char and ash, which were spread on crop fields and gardens as a soil amendment. The volume reduction through the process is over 99%.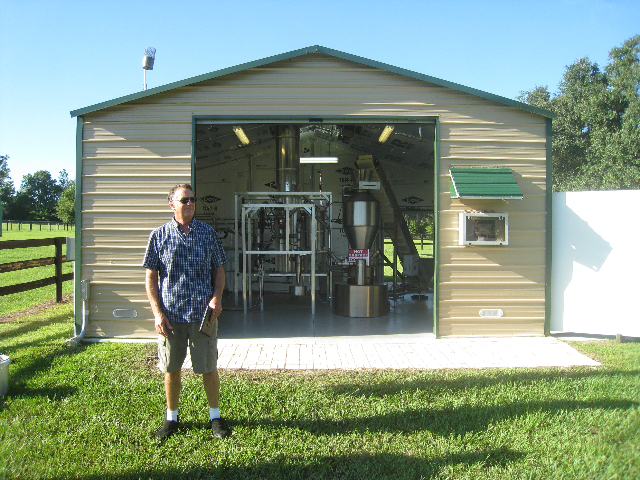 Kenaf and eucalyptus, fast growing plants, have been planted on the property for eventual use in the gasifier. Mr. Morrison has been using the eucalyptus branches in the gasifier and turning the leaves into fragrances, by extracting essential oils. We discussed the potential of running the gasifier on kenaf biomass. Kenaf (Hibiscus cannabinus) is a drought resistant crop that can grow up to 15 feet tall in 90 days. It has low fertilizer requirements and can be harvested with common hay equipment. It can also be used as animal bedding.
The second stop on our trip was Sun State Organics. This company manufactures composters and vertical growing systems. They handled all of the composting for the Atlanta 2008 Olympics and are currently working with London University on an urban grow system that should be capable of growing 8 acres worth of food in 1 acre of space. Sun State Organics' composters are made of a heavy duty HDPE pipe with a perforated stainless steel tube liner that allows for aeration of the compost. They have also installed a fan at one end of the composter to aid in the aeration of the compost as it degrades. The composter can tilt for easy loading and unloading and can be set to rotate up to 20 times a day to mix the compost, while 3-4 times is recommended. The system has three temperature probes that collect and store data that can be downloaded to verify that the compost reached 150°F for a period of at least 3 days, the time required to meet compost standards. The company claims that composter should pay for itself in about 4 years and give a volume reduction of about 35%. Their composter sizes run from a 8'x3' system to a 30'x6' option. The composter comes on its own trailer with built in jack stands to stabilize the system once it's in its permanent position. It is marketed as a potential alternative to a dumpster (for organic based wastes).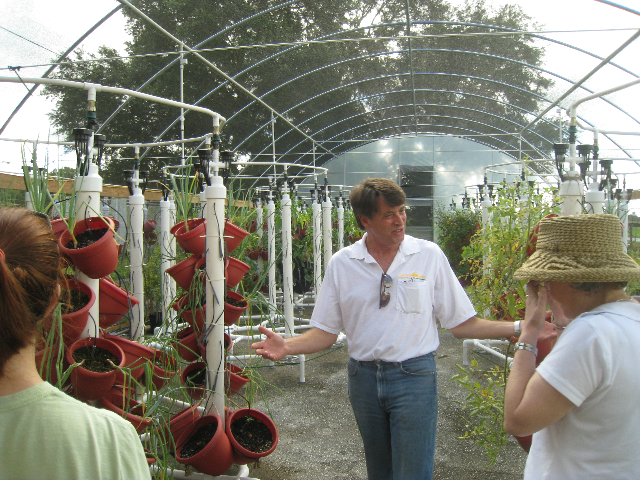 The team at Sun State Organics has also developed a vertical growing system. Their basic grow towers hold about 20 pots per post and they have mounted up to 8 posts on the same carousel. The pots are set to spin every 2 minutes in order to ensure that equal sunlight gets to every pot. The towers are made out of mostly PVC Schedule 40 pipe as the team wanted to create something that was inexpensive and easy to fix should a problem arise. Their industrial size posts hold 60 pots and are 16 feet tall. They claim that their system can grow 14 times more rice per area than the most efficient farmer. They cultivate all of their own plants in order to prove the array of crops that can be grown using their system.
Live Oak Stud is a 4,500 acre, 250 horse farm. They consist of a 700 head cow-calf operation as well as raising racing thoroughbreds. They have been windrowing their stall waste for about a year an improvement over previous methods of static piling. The rows have allowed them to compost about 8,800 cubic yards of muck (stall waste) each year. Their rows are turned daily and have a drip irrigation system to keep the composting material most. Each 100 foot section of hose uses about 6 gallons of water per hour. They have seen a 66% volume reduction and have been spreading the mature compost on their 400 acres of hay fields at a rate of about 4 tons per acre. Live Oak Stud uses the compost more for holding capacity than for fertilizer. It helps restore the soil and reduce erosion. They have been growing Bermuda for 'haylage' (silage from hay) that is fed to their cattle. After touring the compost site we were allowed to tour their stall barn and see some of their world class colts.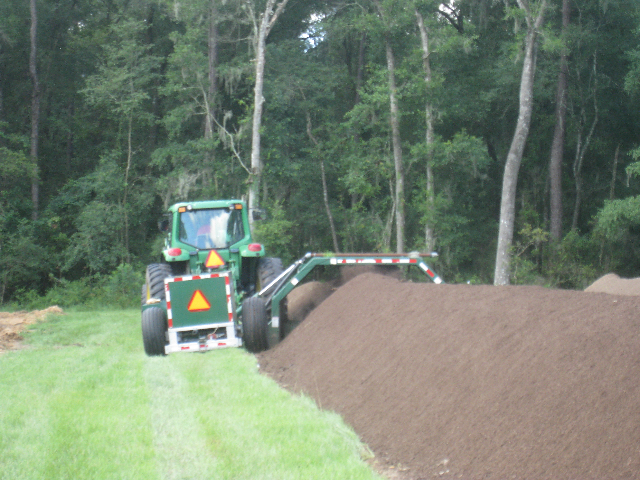 This field trip allowed the interns to see many different sides of sustainability. We learned a lot about the world of organics management through gasification and composting. BESS interns experienced a running gasifier and active composting operation. The field trip demonstrated what local business leaders are currently doing to both be sustainable and integrate sustainability with business.